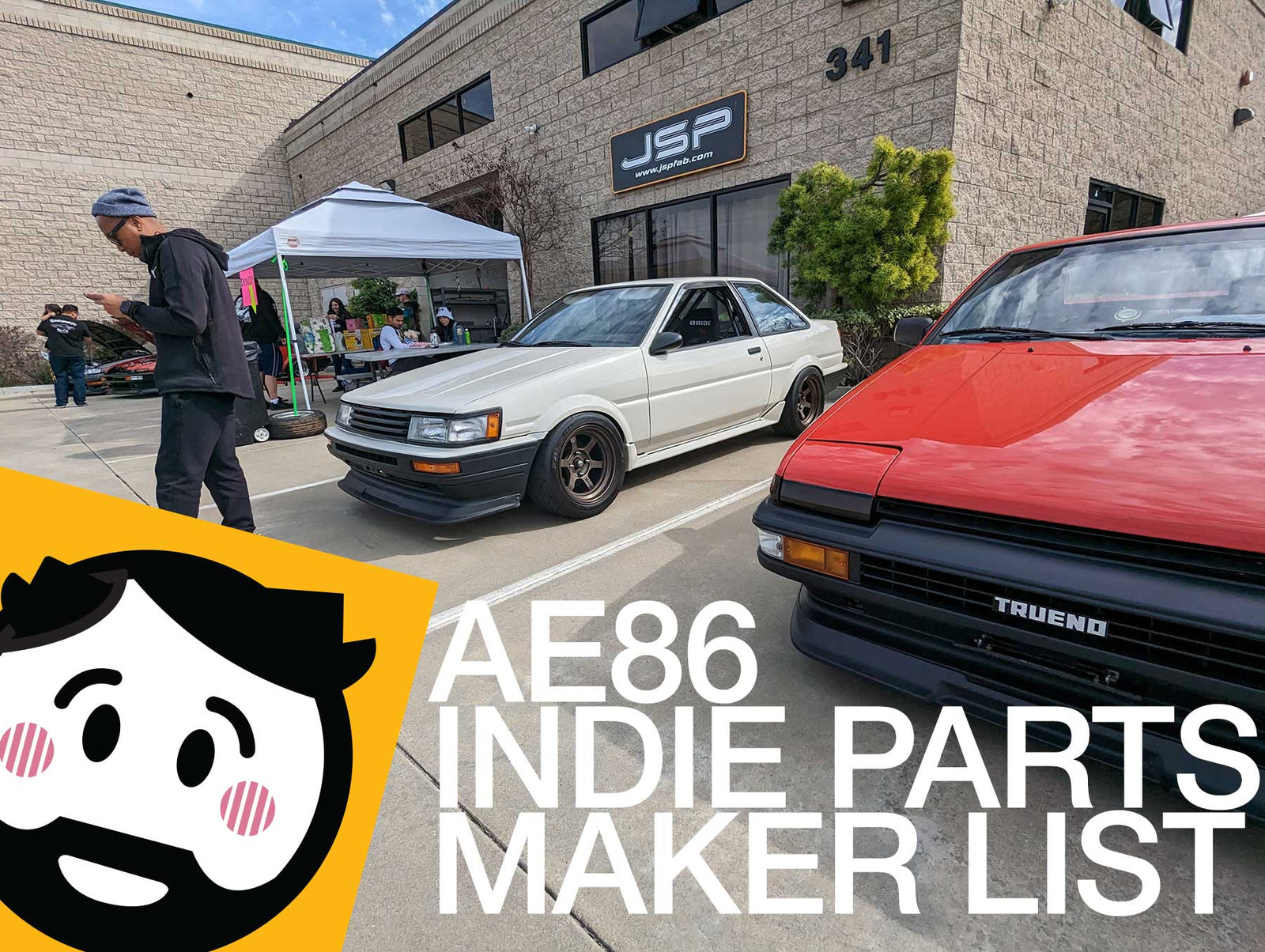 The people that make up the AE86 community are a stunning and talented bunch. And naturally, there's some duds (but they don't usually stick around long-term). Some of the folks in the AE86 community are talented engineers and designers that make aftermarket parts for the AE86 and 4AGE. Having these brains working toward improved performance and restoration for these Corollas is something we should all be grateful for. As such, I wanted to help link up buyers with the sellers I'm grateful for.
This list has all the indie parts makers of AE86 parts, which can be tough to find in one place, and I'm sure there are some I have missed. I also included a couple retailers worth mentioning for their efforts to make OEM parts findable. Send me anything I missed via instagram @cfrost.
Hopefully this is helpful to people getting started with this chassis. There are bigger businesses too, but you know how to find an HKS exhaust :) This is for the smaller guys.
Where to get AE86 Parts from Indie Shops / Makers

JSP Fab
www.jspfab.com
What they make: AE86 Engine swap support parts (Beams 3SGE, F20C, K24), Suspension, AE86 interior, AE86 restoration parts
Why we're lucky to have them: John and Stacy at JSP make extremely high quality parts that are put to the test from a true AE86er. John drove an AE86 in Formula D, built a drag AE86, and currently has a pretty darn cool beanz-swapped street car that he uses for R&D and fun. JSP also hosts an annual fundraiser for the local animal shelter. Good folks, support em! They also make the shift knob I run in my car.


D's Speed Shop
@dsspeedshop
What they make: AE86 used parts, AE86 restoration parts, AE86 hardware, Cool garage banners
Why we're lucky to have them: If you're around AE86s in Southern California for a little bit of time, you'll probably be lucky enough to meet Dennis. He's extremely knowledgeable, owns the finest red zenki hatch on the road, and is able to make tidbits available for your restoration. Writing this article reminds me I need to order some valve cover flanged acorn nuts and a fuse box sticker for my latest restoration.
Xcessive Manufacturing
xcessivemanufacturing.com
What they make: AE86 swap kit parts (1UZ [gross], Beams 3SGE, cross members, seat brackets, cooling and suspension parts
Why we're lucky to have them: Xcessive makes a lot of parts for a lot of cars, but their support for the AE86 chassis is pretty extensive. The link above goes to their AE86 section of their site, so check them out if you're looking to do a swap or need other non-OEM restoration parts. 

AutoExtrude
autoextrude.com
What they make: AE86 cupholders, gauge pods, headlight mods
Why we're lucky to have them: Autoextrude makes a reallllyyyyyy nice cupholder that sits in the back part of the center console and flips out of the way. It even has a nice little magnet built in. Clever little piece of the car. They also make some other parts that look to be nice quality and clever!

Flo's
flos.ie
What they make: AE86 restoration parts, performance parts, nut and bolt kits, a whole lot of everything
Why we're lucky to have them: Flo's is the parts-supply powerhouse out of Ireland that has TONS of replacement parts to keep your AE86 or 4AG running. A crowd favorite is their nut-and-bolt kits that offer a ton of various sizes. I've ordered a handful of goodies through these guys and it arrives to the states at a reasonable price.

Shock The Mob
@shockthemob
What they make: AE86 OEM parts, performance parts, 4AGE parts, and more
Why we're lucky to have them: Jacob has AE86 in his veins and is an extremely passionate enthusiast that makes available all sorts of AE86 parts imported from Japan and sourced from USDM cars. If you need it, he probably has it in stock.

Occamotif
occamotif.com
What they make: AE86 restoration parts, 4AGE carburetor support parts, AE86 performance parts
Why we're lucky to have them: These guys make a lot of the little tidbits that would be very frustrating to find if occamotif didn't make them. Thank goodness they do! They also make an indestructible hood prop holder, which is good because those suckers always break. 

Bumper 2 Bumper Auto Performance
b2bautoperformance.myshopify.com 
What they make: AE86 bash bars for Kouki JDM Bumpers, Zenki lip to kouki bumper brackets
Why we're lucky to have them: Tony out of California is an AE86head that's offering up bash bars for getting your JDM kouki bumper mounted. At the time of writing this, they just released their bash bars with jack point. Looks nice!

Battle Garage Racing Service
battlegarage-rs.com
What they make: AE86 miscellaneous parts, reseller of OEM parts
Why we're lucky to have them: Battle Garage has been very handy to pick up OEM parts, but they've also put some cool parts into the market. My favorite of recent is a plug-n-play harness for haltech ECUs for the 4AGE. Very nice to have. 

Panic Made
panicmade.com
What they make: AE86 swap and standalone ECU wiring harnesses
Why we're lucky to have them: Wiring is tough, especially with swaps. Panic makes it easy with plug-n-play harnesses for Beams 3SGE swaps and 4AGE to standalone wiring harness kits.

Breeze Fab
breezefabrication.com
What they make: AE86 suspension / chassis reinforcement, test pipes
Why we're lucky to have them: Breeze Fab provides products with gucci-ass welds. Check out their suspension components - and even better? It's made here in the USA. Very cool.

AE86.DDD / Eric Engman
@ae86.ddd
What they make: OEM restoration parts, clever engineering solutions, fun key chains
Why we're lucky to have them: Eric is a relentlessly detailed engineer that makes/3D prints phenomenal AE86 parts. Following him on instagram is great because you get to take a look into the process. And even better? He makes a lot of files available at .STL for download for free. Truly a great member of the community. He doesn't have a logo, so I stole his facebook photo and put this on there instead. Let me know if you want that changed LOL.

ShitBoxContent
shitboxcontent.com
What they make: Dress up parts, Restoration/Performance parts, Shirts
Why we're lucky to have them: Shitboxcontent creates some fancypants parts that are super nice quality. Also, they help you be not naked when you buy one of their shirts. If you've had one of these cars, you'll understand the name is in the spirit of the car.
LRB Speed
LRBspeed.com
What they make: AE86 interior and exterior aluminum parts
Why we're lucky to have them: LRB gives another option for aluminum door panels for the racecar boys along with an aluminum rear coupe wing. Bonus? They offer a handful of different fabric options for the door pulls.

Niteparts
@niteparts
What they make: AE86 2ZZ swap kit parts
Why we're lucky to have them: The 2ZZ has long been an engine that people talked about being a great fit for the AE86 chassis, and Niteparts is working to make that swap more accessible to AE86 owners worldwide through their work in New Zealand.

BattleVersion
battleversion.com
What they make: AE86 suspension parts
Why we're lucky to have them: Welllllll well well this one goes wayyyyy back to the beginning of drifting here in the USA. BattleVersion founder Alex Pfeiffer was a hero of mine growing up around these cars and drifting and was one of the few to pilot a 16V 4AG AE86 in Formula Drift. His experience and quality parts earned BattleVersion a pretty good reputation amongst Corolla heads. Alex is probably smoking a cigarette and drinking beer right now and he'll likely never read this. He's a national treasure.

BEN10MAKES
etsy.com/shop/Ben10Makes
What they make: AE86 Headlight Motor Relay and Light Retractor Controller, plus cute ornaments
Why we're lucky to have them:This was one that I was super impressed by. I hadn't heard of anybody making reproductions of circuit boards for anything within the AE86 and it's such a cool / unique skill that is awesome to have applied to these cars. He said to message him directly on etsy if you want to order, but he has also posted on Corolla groups with info directly from his facebook page.

JUST Engineering
justengineering.ca
What they make: AE86 Super Steering Angle Kit
Why we're lucky to have them: Justin who designs these kits made a super-duper-mega angle kit for the AE86 and used his AE86 that he's had for the past 15 years! One of us! One of us!

Vintage Dashes
@vintagedashes
What they make: AE86 Dashboard Replacement
Why we're lucky to have them: This one has been in the works for a long time. It's not available on their website at the time I'm writing this, but these guys are making the best non-OEM option for AE86 dash replacement that I've seen. They're currently making dashes for vintage Z cars that look to be damn close to OEM! I'm excited to see these for AE86 so we can stop paying 3 grand for a clean uncracked black dash or using a cheapie dashtop cover like cars have.

KE Conversions
keconversions.com
What they make: AE86 Swap Support Parts
Why we're lucky to have them: These guys offer some pretty cool swap brackets for engines you don't see too often in an AE86 including: LS1, 4G63, 3RZ, 1JZ/2JZ and more. Nice to have an option if that's your flavor.

Feint Dynamics
@feintdynamics
What they make: AE86 Restoration replacement parts
Why we're lucky to have them: Feint Dynamics is doing a huge service to AE86 restorers by getting into the weeds on parts that are hard to find but necessary for your restoration. I love parts makers that show their process and you can see that on this post here. Thanks Tim!

Impulse Japan
@impulse_japan_ae86
What they make: AE86 restoration parts, performance parts, LOTS of carbon fiber goodies
Why we're lucky to have them: Impulse Japan is definitely cool because..... it comes from Japan. Check out their instagram above for updates on cool new carbon fiber products and performance parts like oil filter relocation kits and exhausts.

AE86 World
AE86world.bigcartel.com
What they make: Sweet velocity stacks, performance parts, restoration parts, great stickers and shirts
Why we're lucky to have them: AE86 World has an array of stylish AE86 products. It may seem silly, but my favorite stuff is their stickers, shirts, and 3D-printed model of a 4AGE 16V.

Workshop Takumi (Carbon Junkie)
carbonjunkie.jp
What they make: Dry carbon racing replacement parts and performance parts.
Why we're lucky to have them: Really cool dry carbon stuff for your racecar. Coolest part of browsing their website is they list the weight of all the items they sell. They also support quite a few other chassis, so tell your non-AE86 friends to get poor shopping over there too :)

Weir Performance
weirperformance.com
What they make: Rear end parts, final drive options
Why we're lucky to have them: If you're looking for a final drive option other than Toyota OEM, Weir is the option that pro AE86 drifters like Taka Aono went with for previous builds. I ran their 4.7 final drive (a must have for any AE86) in prior builds without issue, and fulfillment was quick with the order. 
HOLD!! Racing
holdracing.com
What they make: 3D printed interior mod parts, stickers, keychains, shirts
Why we're lucky to have them: Another maker of AE86 options is always a good thing. HOLD!! Racing has some fun interior parts for getting your Corolla's insides exactly how you want 'em. Bonus: I've seen this dude driving around Southern California in his white hatchback. He's living the life every day!
TechnoToyTuning aka T3
technotoytuning.com
What they make: AE86 restoration parts, performance parts, 4AGE parts, brake kits, and lots more
Why we're lucky to have them: Technotoytuning was one of the first companies to build widespread support for the AE86 based here in the states. When there were few coilover options locally, T3 was one of the first to make it happen (and most impressively at the time, even adjustable rear coilovers). I used a handful of their parts on my last 20V 4AGE coupe build without issue.

Time Machine Composites
timemachine86.com
What they make: AE86 exterior restoration parts, interior restoration parts, the precious redline center garnish
Why we're lucky to have them: This is one of the more exciting entrants to the AE86 parts world because it brings a higher-scale kind of product manufacturing to the AE86. The first big launch that made waves was the redline tail light center section (no longer made by Toyota... getting pricey!), which is exciting to see come to light. They also make mirrors and a few interior pieces. I expect more good stuff to come from these guys. This type of thing is hard to get made if you're a small maker, and they're making it work at scale. 
Editor's Note 3/2/23: MAJOR BUMMER to see copy parts of Run Free on their website. I'm not a fan of this at all and I hope they shelf that product seeing for the damage it does for creators.